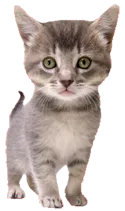 Caring Veterinary Services For Small And Large Pets
Preventative Care Medicine - We recommend an annual exam with routine vaccinations for all our patients at least once a year to help us better evaluate the health of your pet and diagnose potential health concerns as early as possible.
Pharmacy - We maintain a complete inventory of pharmaceuticals, including flea/tick and heartworm preventatives. The clinic also offers Hill's prescription diets to maintain optimal health or improve your pet's quality of life. Our online pharmacy is available for your convenience; if you wish, you can have your pet's prescriptions, food, or monthly flea/heartworm preventatives sent straight to your door!
Soft Tissue Surgery - Our veterinarians schedule routine surgeries (such as spay or neuter) on Mondays, Tuesdays, Wednesdays, Thursdays and Fridays. We may also provide emergency surgery during office hours as needed. We offer a complete array of non-routine surgeries including gastrointestinal surgery, bladder surgery, mass removals, etc. Advanced soft tissue surgeries are scheduled for Tuesdays or Wednesdays with our traveling surgeon Dr. Dulce Coulson.
Orthopedic Surgery - We provide a variety of orthopedic surgical services including fracture repair, cruciate ligament repair, patella surgery, etc. Please see the "Orthopedic Surgeries" link for more detailed information.

Gas Anesthesia - We provide the safest anesthesia protocol during surgical procedures. In conjunction with these procedures, we highly recommend our patients take advantage of our pre-anesthetic blood testing.
Microchipping - Here at TLC, we strongly believe in the use of microchips as a safe and effective way to help return lost pets to their owners. Microchipping can be done at any routine visit.
In-House Blood Work - One of the most important tools for diagnosis of a sick pet is our blood laboratory. Our in-house blood work provides our clients peace of mind with quick results during your visit. We also recommend blood work for our pre-surgical or geriatric patients.
Radiography - X-rays provide us with immediate results to help us better evaluate and treat our patients.
Dentistry - Dental cleanings are a very important part of your pet's routine healthcare and keeping up with their oral health may help avoid or eliminate other secondary issues including bad breath, difficulty eating or loss of appetite, gingivitis, poor heart health, sepsis, liver abscess, or bone infections. Our dental services include ultrasonic cleaning, polishing, fluoride treatment, and tooth extraction if necessary.
Dietary Counseling - Nutrition is essential part of your pet's overall health! Obesity in pets is one of the most common health problems we see and often leads to other health concerns. We are happy to provide you with more information to help you choose an ideal diet for your beloved companion.
Cremation - We offer our clients the option to cremate their beloved pet when the time comes and return them to you as soon as possible, if you choose.
ADDITIONAL SERVICES OFFERED THROUGH THE LENA VETERINARY CLINIC:
Ultrasound - Ultrasound is a non-invasive way for us to better understand or identify your pet's medical condition. We also offer ultrasound for pregnancy, depending on gestational stage.

Laser Therapy - Tender Loving Care offers laser therapy as a painless treatment option for our patients. Laser therapy is commonly used on patients with arthritis to decrease pain and increase mobility, or to accelerate healing in patients with swelling, ear hematoma, fractured/broken bones, wounds, chronic ear infections, surgical incisions and much more. Our patients usually love their laser therapy visits!